The idea was to create a visually interesting piece displaying the most iconic bands of this musical genre. Some bands I've choosed because of their importance, some others because of its influence to metal (such as Led Zeppelin, whitch is not actually a metal band), others are there because they are very well known (such as Guns N' Roses).
Despite some criticism I received from some devoted metal fans, it was a success and became viral a couple years ago. Lots of people helped to create this table and I'm very thankful to them and all the suggestions I received from metal heads around the world.
If you want a print or have any suggestions, critics or comments, please, feel free to contact me.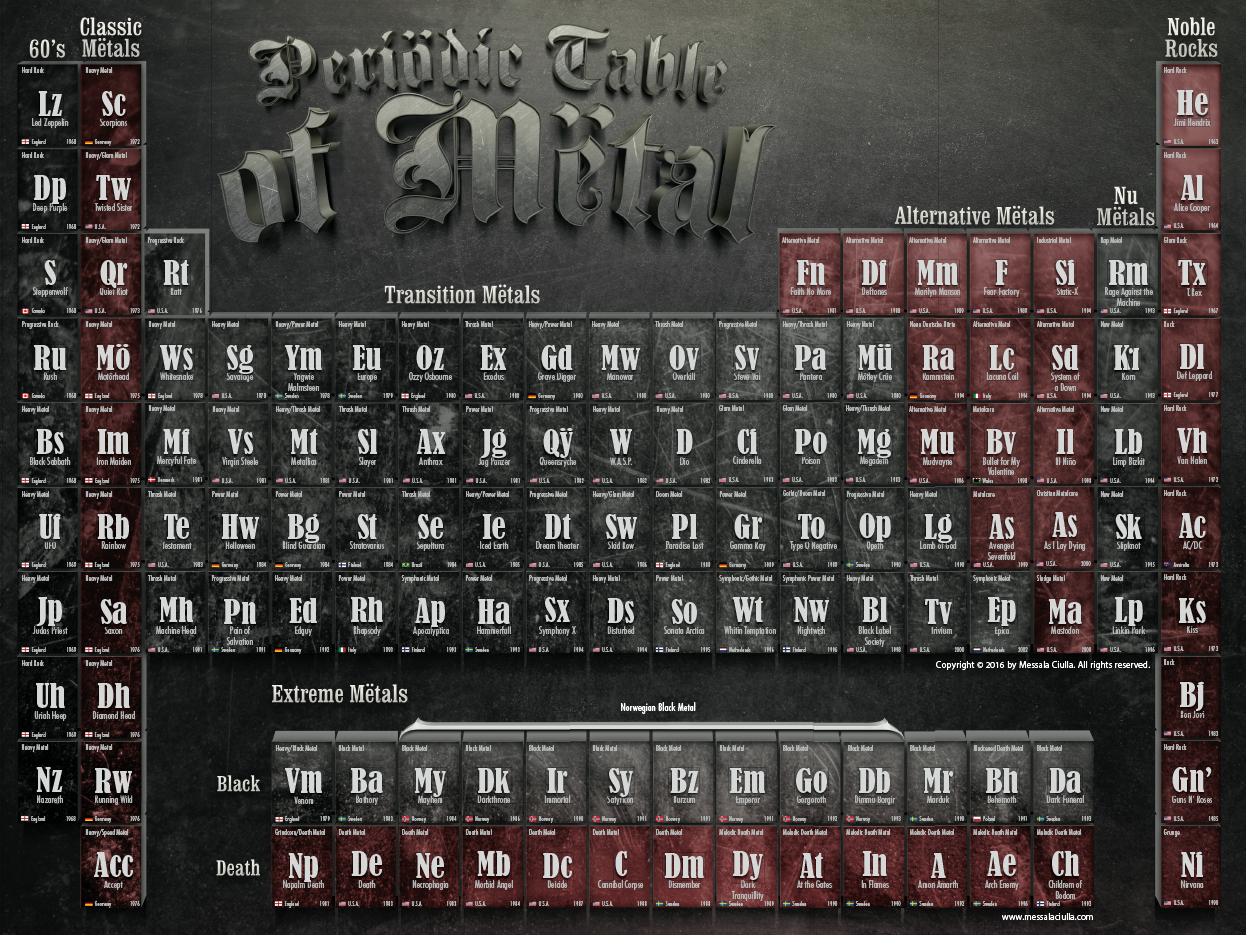 Every box has the symbol of the band, represented by two characters, the main style of the band (some bands are really hard to fit in an especific category, but for design purposes I had to choose one), country, name and finally the year of the formation of the band (there are some foggy information about the beggining of some bands, some other had different names or formations, whitch opens the actual beggining of the band to interpretation).
Its a total of 120 bands and artists divided in 8 groups, 60's Metals, Classic Metals, Transition Metals (because of the periodic table of elements), Alternative Metals, Nu Metals, Noble Rocks and two categories of extreme Metals, Death and Black. I also hightlighted the controvertial Norvegian Black Metal.
60's Metals


Led Zeppelin, Deep Purple, Steppenwolf, Rush, Black Sabbath, UFO, Judas Priest, Uriah Heep.
Scorpions, Twisted Sister, Quiet Riot, Motörhead, Iron Maiden, Rainbow, Saxon, Diamond Head, Running Wild, Accept.
Ratt, Whitesnake, Savatage, Yngwie Malmsteen, Venom, Ozzy, Exodus, Grave Digger, Manowar, Overkill, Steve Vai, Pantera, Mötley Crüe, Virgin Steele, Metallica, Slayer, Anthrax, Jag Panzer, Queensrÿche, Kreator, W.A.S.P., Dio, Megadeth, Testament, Helloween, Blind Guardian, Stratovarius, Sepultura, Skid Row, Iced Earth, Dream Theater, Cacophony, Paradise Lost, Gamma Ray, Opeth, Lamb of God, Machine Head, Pain of Salvation, Rhapsody, Hammerfall, Symphony X, Sonata Arctica, Nightwish, Disturbed, Black Label Society, Trivium.
Faith No More, Deaftones, Marylin Manson, Fear Factory, Apocalyptica, Rammstein, Lacuna Coil, System of a Down, Mudvayne, Bullet for my Vallentine, Ill Niño, Avenged Sevenfold, As I Lay Dying, Mastodon.
Rage Against the Machine, Korn, Limp Biskit, Slipknot, Linkin Park.
Jimi Hendrix, Alice Cooper, Van Halen, AC DC, Kiss, Guns N' Roses, Nirvana.
Mercyfull Fate, Bathory, Mayhem, Darkthrone, Immortal, Satyricon, Burzum, Emperor, Gorgoroth, Dimmu Borgir, Marduk, Behemoth, Dark Funeral.
Napalm Death, Death, Necrophagia, Morbid Angel, Deicide, Cannibal Corpse, Dismenber, Dark Tranquility, At The Gates, In Flames, Amon Amarth, Children of Bodom.  
References:

wikipedia.org
Metal: A Headbanger's Journey - by Sam Dunn
Global Metal - by Sam Dunn